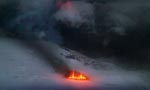 Travellers thinking about visiting Iceland to see the recent volcanic eruption at the Eyjafjallajokull glacier, along with purchasing various other vacation packages this year, can do so through the new online travel agency, Icelandtotal.com. The website works as a one-stop-shop for all those interested in travelling to Iceland, offering vacation packages, self drive holidays, car rentals, flights, accommodation, day tours and activities.
The customer can choose between different vacation packages and tours, with different themes and duration. Whether one is looking for a relaxing trip to the Blue Lagoon or more adventurous tours like horse riding and hiking – Icelandtotal.com can provide it. Also, the website offers even cheaper prices for customers purchasing package deals online through the website booking engine, providing great value for money as well as ease and convenience.
Icelandtotal.com offers a great selection of various tours, providing customers with the chance to arrange the perfect Iceland holiday before arriving in the country. In addition to this, the website also boasts the complete Iceland Travel guide, with detailed information about all of the most popular attractions, including photos and videos of different sites and tours.
Icelandtotal.com is operated by Iceland Travel, the largest travel agency and tour operator in Iceland, and is a part of Icelandair Group.
For more information about vacation package deals and tours in Iceland visit www.icelandtotal.com