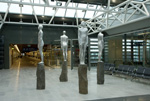 Iceland's Keflavik International Airport was nominated in the category of 'Best online marketing campaign 2009' for its innovative, social media network driven, Christmas campaign.
The airport utilised media networking channels Twitter, Facebook and YouTube in order to socialise with passengers before they entered the airport. The campaign was vital in making customers aware of how focused Keflavik International Airport is on providing excellent service and in gaining customer interest and trust.
The marketing team at Keflavik knew it was important to communicate with passengers, and to keep them informed on airport's environment and facilities, such as its duty free shopping area. This strategy helped the airport to raise its score in the Airports Council International passenger survey between 2008 and 2009 by 0.14 points.
"We've had a huge success in terms of marketing communication and passengers' endowment for the last two years. Late 2008 we decided to increase the focus on the foreign passenger because the recession has made the Icelandic Krona more favourable in exchange, allowing them to enjoy our excellent shopping area…We also offer these transatlantic airlines good and quick service and their passengers can enjoy their short stay at the best airport in Europe," explained Keflavik International Airport's marketing manager Arnar Reynisson.
Keflavik International Airport was crowned the best airport in Europe in the recent Airports Service Quality survey, conducted by the ACI. The airport scored highly in passenger satisfaction, due to its welcoming atmosphere, simplicity of connecting flights, friendly staff and vast duty free shopping area.
More information about Keflavik International Airport, its facilities, and how to join its social media network can be found at www.kefairport.is/english/