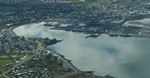 The sheltered fishing Port of Hafnarfjordur, is built in a lava field located in the south-west of Iceland, just a 10 minute drive from the capital city Reykjavik. Hafnarfjordur is Iceland's third-largest town, with just over 25,000 residents and opportunities for whale watching and horse-back riding. The port is capable of accommodating three berth cruise ships and this year is anticipating an increase in business.
The Port of Hafnarfjordur is expecting 13 calls this year of which five will be turnarounds. This is a massive increase in comparison to previous years and in addition to this, the port will receive its largest ever visitor, 93,000gt MSC Poesia with a length of 300m and draught of 7.6m. Furthermore, Compagnie du Ponant's new cruise ship, Le Boreal is expected to make a visit.
For passengers of the visiting cruise ships there are numerous activities, including three tours in the surrounding area. The most popular of three is the Golden Circle, which includes a visit to Thingvellir, Geysir and Gullfoss. The geothermal area of Krysuvik is located just 20 mins away, as well as the world renowned Blue Lagoon Spa.
In addition to this, every summer, hordes of Norsemen invade the town for the annual Viking Festival. The colourful Viking festival involves Viking enthusiasts from all around the world gathering in the town to enjoy the various activities and events for all the family to enjoy.
In response to the potential summer rush, the Port of Hafnarfjordur has implemented a new website which provides up-to-date information ideal for all the summer visitors.
To view the new Port of Hafnarfjordur website and learn more visit www.portofhafnarfjordur.is