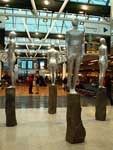 In a recent passenger survey conducted by the Airports Council International, Iceland's Keflavik International Airport has been voted as the best airport in Europe within the first nine months of 2009, for customer comfort and satisfaction.
Stated within the Airports Service Quality survey, passengers found Keflavik International Airport to be calming due to its friendly atmosphere and relaxing ambience.
The ASQ survey is the world's leading airport customer satisfaction benchmark programme with around 130 airports surveying their visitors every month of the year.
In addition, travellers expressed their enjoyment at Keflavik's wide array of duty-free shops, for both arriving and departing passengers. The Keflavik shopping zone holds a total of eighteen stores, featuring high-street clothing and electrical brands at discount prices, as well as offers on liquor, tobacco and toiletries. Also, passengers are getting much more for their money due to the highly favourable rate of exchange in Iceland.
Keflavik International Airport has been labelled as the prime hub for travel in the Atlantic, with Icelandair connecting flights from Iceland to over twenty destinations in Scandinavia, North America, UK and continental Europe.
To find out more about Keflavik International Airport's quality services visit www.kefairport.is