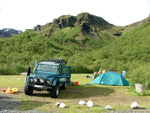 Numerous options are available for visitors that come to Iceland to explore the natural beauty that the country has to exhibit such as a coach tour but the same cramped, uncomfortable experience is certainly no way to experience Iceland.
Renting a car is another option for visitors but this too has many drawbacks such as the difficulties of exploring an unfamiliar country, not knowing where to go or what to see. Most importantly, two-wheel-drive rental cars are not allowed off road, which limits access and viewability.
This is why the Icelandic tour company, High North, offers a customised Iceland super jeep tour to ensure a complete unique experience for visitors coming to Iceland – and with the value of the Icelandic krona super jeep tours aren't as much of an expensive luxury as they used to be for foreign visitors.
As well as unique customised tours, High North offers a range of pre-planned tours of Iceland's most popular tourist hotspots such as the Reykjanes Peninsula, the Golden Circle and Thorsmork Valley – all with a unique added element. However, the company really excels in arranging great value tailor made tours to the customer's exact specifications.
Every special need or interest the customer may have can be met by High North's experienced and friendly tour guides for example, extreme hikes or cross country skiing expeditions, geology and vulcanology, extreme caving, location searching, filming and photo shooting – whatever it may be, the experts at High North can help get the most out of exploring Iceland.
To access more details on High North and the kind of tours on offer log on to the company website at www.highnorth.is