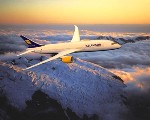 Icelandair is pleased to offer the most weekly flights this year from the UK to one of the world's newest value destinations and its home, Iceland. Since Lonely Planet recently naming Iceland as one of the Top 10 Value Destinations for 2010, and the devaluation of the Icelandic krona, there is no better time for travellers to enjoy the country's pristine nature, geothermal spas and exciting nightlife for a fraction of the cost.
Icelandair is one of Iceland's longest established companies, connecting the world to Iceland for over 70 years. The airline offers flights from London Heathrow, Manchester and Glasgow to Iceland, whilst also connecting onwards to destinations like Boston, New York City and Seattle. In 2009, Icelandair's on time performance was amongst the best between European carriers, with 89,6% of flights on time.
Getting to Iceland via Icelandair is convenient, with up to 22 flights per week from the UK. A good way to experience Iceland is with an Icelandair Holidays City Break, which includes flights and three nights accommodation. Travellers can easily add day tours, like the famous Golden Circle or trips to the Blue Lagoon. For the active traveller, there are also horse riding, glacier ice walking and snowmobiling day tours.
For more information you can visit www.icelandair.co.uk, contact Melissa Andretta at Icelandair on 020 7874 1003 or email melissa@icelandair.is
(Advertisement)