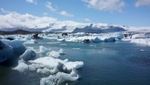 The Lonely Planet travel guide has recently released the Best in Travel 2010 book, the publisher's fifth annual collection of the world's best journeys, destinations, and experiences for the coming year. The guidebook presents the top ten countries, regions, and cities to visit, chosen by Lonely Planet's global team and Iceland is at the top of the list for 2010.
Lonely Planet is the largest travel guide book and digital media publisher in the world. It has published over 500 titles in 8 different languages with annual sales of six million guidebooks as well as TV programs, a magazine, mobile phone applications and websites.
The Icelandic airline company, Icelandair, is very happy at Lonely Planet ranking Iceland number one in the top ten money-saving vacation destinations in northern European for 2010. Over the past year, the previously expensive holiday destination has become the face of the economic crisis but consequently, due to the current exchange rate, has allowed travellers and tourists to holiday in Iceland at a much lower price.
"You've always wanted to explore this magical, mysterious land, explore volcanoes and ice caps and bathing in hot springs? Then 2010 is your year," states Lonely Planet.
With all this positive exposure the coming year will surely be a busy and exciting one for Icelandair, flying people in from all 25 of their gateways across Europe, the USA and Canada, providing safe and reliable air travel for all who wish to visit the land of fire and ice in 2010.
For more information on Icelandair, the services they offer and for booking flights visit www.icelandair.com
(Advertisement)