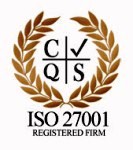 Securstore is a company that offers online data backup and recovery soloutions.
The company recently excelled in the British Standards Institution Assessment and was re-certified with the ISO/IEC 27001 global information security standard. The ISO/IEC 27001 is an internationally recognised standard concerning information safety and management. This identifies, manages, and minimizes the range of threats to which information is regularly subjected to.
With this BSI certification, SecurStore can provide top level and exceptional security management services and information backup. Chief Operational Officer Alexander Eiriksson says, "ISO 27001 is such an important standard, it demonstrates that SecurStore puts the security of information at the heart of the business. It builds confidence amongst our clients, partners, and suppliers that we provide a secure environment for the backup, retrieval, and archival of vital business data."
Data backup is essential and is run by computers which removes the risk of human error. In addition to the data backup, the implementation of a solution needs to be just as stringent, as customers data is highly sensitive and therefore warrants protection. SecurStore is one of those companies that provide a trusted online backup and recovery solution under the umbrella of the British Standard Institute ISO 27001 standard which fulfills both these issues and therefore ensuring its customer's data is securely stored.
Check out more at www.securstore.co.uk