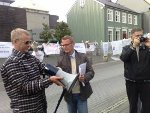 A group of people broke away from the crowd of protesters this afternoon and tried to break into the Parliament building. Two police officers stopped the small group from entering. Drumming and whistling could be heard from the protesters inside the Parliament.
This noise and commotion going on is in result of a controversial Icesave deal. The third and final round of talks concerning the Icesave deal is being discussed in Parliament during the protests. According to Visir, roughly 300 people attended the protests outside Austurvollur (East Square) in front of the Parliament today.
"The idea is that those who show up and protest this Icesave deal could wind up saving themselves one to two million kronur," Frosti Sigurjonsson says, who is the managing director of the Dohop Flight Search System.
(Photo/MBL – Jakob)