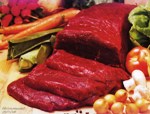 Iceland's whaling quota this year is coming close to being reached, but according to Managing Director of the Association of Minke Whalers Gunnar Jonsson, reaching the quota is not the goal. The quote was set for 200 minke whale and 150 fin whales. At the moment, a quarter of the total quota has been met including 50 percent of the fin whale quota. That means 46 minke whales and 64 fin whales have been caught. 110 whales in total have been captured this season.
"We haven't frozen any whale meat this year. All of the hunted whale meat is sold fresh at the local marketplaces and supermarkets," Jonsson says, "It has been a popular meat for BBQs this summer"
Whale meat is comparatively cheap in Iceland compared to other meats. The market is said to be growing also, according to Jonsson. Whalers intend to start exporting their catches to countries like Japan, Norway, and the Faroe Islands. Conservationists maintain the export market has been overestimated.
(Photo/High North.no)