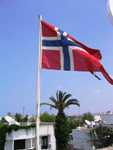 A difficult child custody case involving the kidnapping of two children by their father has created major problems for the staff at Morocco's Norwegian Embassy. The man has been charged with kidnapping and taking his 13 and 16 year-old kids from Norway to Rabat in Morocco.
The father managed to keep the children in Rabat for two and a half years before they finally managed to escape and make their way to the Norwegian Embassy in Rabat. The embassy housed them for several days while their father issued a flurry of serious death threats against the embassy staff.
Eventually, the two children were met by their mother, who was able to get them safely back into Norway. This child custody case has been a real snafu for embassy staff in Morocco for several years. The Ministry of Foreign Affairs admitted being concerned for their safety but had their hands tied over the legality of separating the kids from their father, according to The Norway Post.
Luckily the kids took the initiative. Foreign Minister Jonas Gahr Stoere commented "The two children went voluntarily to the Norwegian Embassy after threats to their lives. They were allowed to stay there for three days, which is quite out of the ordinary, and indicates the seriousness of the case. They left the Embassy of their own accord, after which the Norwegian authorities had no contact with them, and consequently were not in any way involved with their leaving Morocco."
See more about this at the NorwayPost.