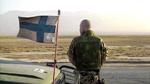 Fighting broke out again between a group of Finnish and Swedish soldiers and insurgents in Sar-i-Pol in Afghanistan on Monday around 16.00 (GMT). There were about 20 soldiers of a mixed Finnish and Swedish patrol in the conflict. Shooting went on for about 30 minutes, according to Finnish news source Helsingin Sanomat.
Sar-i-Pol is located in the western part of the country and is under the control of Finnish and Swedish forces. Chief of Defence, General Ari Puheloinen states that the forces should be prepared for possible deaths and increased violence within the area. Due to the recent increase of attacks in Afghanistan, Finland has found difficulty in recruiting peacekeepers for missions in Afghanistan.
During the time that Finnish peacekeepers have been stationed in Afghanistan, one soldier has been killed. Sergeant Petri Immonen was killed in 2007 in the northern part of the country by a car bomb.
See the full article at Helsingin Sanomat.