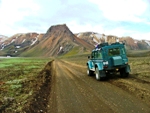 Your holidays and vacations to the exotic destination of Iceland can best be complete and enjoyed with the help of High North, a tourism company and tour operator in Iceland based in the capital city of Iceland, Reykjavik. High North offers all kinds of tours based from Reykjavik that can take you throughout the country.
High North's tours will bring you to places such as the beautiful Thorsmork park in Eastern Iceland. In Thorsmork you can find the most beautiful and majestic landscapes and sceneries. The Golden Circle tour takes you conveniently to the Gullfoss waterfalls, Thingvellir national park, Geysir, and other sites along the way. There is, however, one thing that is different about High North's Golden Circle tour from other companies. That is that you will be taking a Super Jeep off road heading towards the Langjokull glacier.
These are just few of the amazing tours that High North has to offer. Most tours are provided by super jeeps. You also have the option of customizing your tours. Only the sky is the limit when it comes to touring with High North. High North is also an officially certified tour operator by the Icelandic Tourist Board, so you can rely on very professional tour guides to make your Icelandic vacation exciting and enjoyable.
You can contact High North for more information, and even requesting a customized tour today with them! Welcome to Iceland!
High North
Fífulind 13
201 Kópavogur
Tel +354 867 5059
info@highnorth.is
www.highnorth.is
(Advertisement)