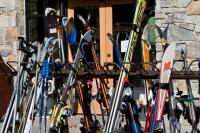 Copenhagen's City Council has put its support behind a plan to convert part of Amager into a comprehensive recreation site. The development is expected to cost the city around 564 million kroner, and will even include an artificial ski slope at Klovermarken.
Politiken newspaper has reported 80 million kroner of the fund will go into building the urban ski hill, while another 100 million kroner will renovate the existing complex of sports fields. Additional funds will build a new swimming pool facility, a gymnasium, roller skating track seven kilometres long, and perhaps even a parcours site.
Both the city's Liberal and Conservative parties worked together to put forward the proposal, with the Social Liberals, the Danish People's Party and the Red-Green Alliance also showing their support. The only area of contention comes from Pia Allerslev, the Deputy Mayor for Culture, who said many constituents were hoping for more open space where unorganised games and general exercise could be enjoyed.
Copenhagen's social activists may also be a little concerned that the site of the proposed ski slope at Klovermarken was once slated as a potential site for subsidised housing for the city's poor.