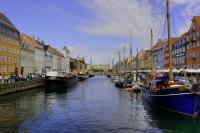 Some of Copenhagen's police officers will be trading in four wheels for two as they team up for the Danish capital's new police cycle unit. The patrol will be made up of eight police officers whose job will be to keep an eye on the narrow inner streets of Copenhagen.
Beginning 1 April, the bicycle unit will become an everyday sight on the streets of the capital. They will be focusing particularly on Stroget, the pedestrian street that is packed every summer with tourists. The bike cops' main function is to deal with traffic accidents, crime and violence, though just their presence will give visitors a greater sense of security as they tour the inner lanes of Copenhagen.
The leader of the new bike patrol, Kim Vinholdt, said that bicycles allow police to move around the tight inner city streets and are better at facilitating personal contact with the public. "I think we can help create a sense of security and our presence will help reduce the number of violent attacks," Vinholdt told the Copenhagen Post.
Police bicycle patrols are a common feature of many European cities. The Copenhagen police department went to Oslo to study how they operate their bike unit, and are generally following the Norwegian model. The new patrol will operate for one year on a trial basis, and then be evaluated for its effectiveness.