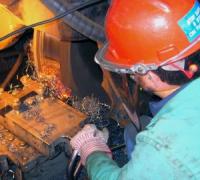 The latest government employment figures released for January show that an average of 238 people lost their jobs in Denmark each day during the month. This brings to total number of unemployed Danes to more than 64,000 people.
Industry experts are warning that local Danish councils are going to have their hands full dealing with the ensuing job crisis as unemployment numbers continue to rise, Politiken reports.
"I'm worried that councils may not be able to handle the increasing unemployment up to August 1," says DI Labour Market Head Mette Rose Skaksen, adding that council experience with similar situations in the past was not good. It's the local councils who are responsible for finding new jobs for unemployed Danes.
Claus Hjort Frederiksen, the Minister for Labour, told Politiken the Danish government is taking the situation very seriously and has already proposed tax reforms aimed to jump-start the economy.
"The government has been taking the necessary, responsible steps and will continue to do so. Luckily we saved up when times were good so we have something to act with, now that the international financial crisis is affecting Denmark," Frederiksen says.