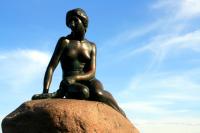 For the first time in its 100-year history, the iconic statue The Little Mermaid will be moved from its rock in Copenhagen to make a trip to China. The city council of Copenhagen decided to send the statue to next year's World Expo in Shanghai.
Klaus Bondam, the deputy mayor in charge of parks and statues, confirmed that despite opposition from several city officials, Copenhagen's Technical and Environmental Administration decided to put the girl-sized statue on display in Shanghai from 1 May to 31 October next year. The statue is a tribute to the Little Mermaid story by famous Danish fairy tale writer Hans Christian Andersen.
Bondam told reporters, covered by the Houston Chronicle, "I am sure that Hans Christian Andersen, if he were alive today, would have loved to have The Little Mermaid travel to China." The famous Danish landmark has been sitting at Copenhagen's harbour since 1913 and still attracts more than one million visitors every year.
The Danish government, not the city of Copenhagen, will be footing the bill to send The Little Mermaid to China. The life-sized statue was crafted by Danish sculptor Edvard Eriksen. She has endured many crises, from her beheading in 1963 to the most recent incident in 2003, when she was thrown from her rock by vandals who placed explosives under the statue.