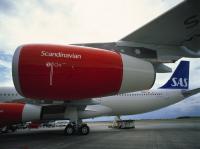 In the most dramatic instance of recent cutbacks in the aviation industry, Scandinavian Airways (SAS) has made the tough decision to axe 40 percent of its entire global workforce as part of its massive restructuring plan. The move by the Nordic carrier comes on the heels of huge profit losses of 6.32 billion kronor (USD 757 million) in 2008.
BBC news reports that SAS will terminate 3,000 jobs from its core operations, as well as make another 5,600 employees redundant when their subsidiaries are sold off or outsourced. After the culling, SAS's current staff of 23,000 people will be trimmed to 14,000. The biggest single move will be to sell its lagging subsidiary Spanair to a Spanish consortium for a single euro. This alone will see 3,000 SAS employees move to the new Spanair company.
Also up for sale are the carrier's stakes in Air Baltic, Air Greenland, Spirit, BMI, Skyways, Estonian Airways, Trust, and Cubic. SAS now plans to focus more on business travel within the Nordic region as part of its financial recovery plan named Core SAS. The Stockholm-based airline is struggling to remain competitive in a shrinking air travel market, and hopes focusing closer to home will provide the foundation for future stability.