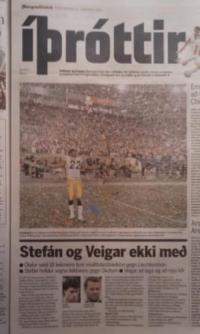 Few things impact culture more than sports; and in Iceland, as with most of northern Europe, people watched the Super Bowl finals, seeing the Pittsburgh Steelers beat the Arizona Cardinals at the Raymond James playground. This was the Steelers seventh Super Bowl appearance and their sixth championship title.
This most American of sports is a cult favourite in Europe and managesto grab attention worldwide for the final game of the season, when the best teams meet and play in the Super Bowl.
American football is not to be confused with the type of football usually called Soccer in the States – it is much closer to rugby.
For those that want to learn more about American Football and how it works check out the coach Stilo web site, or alternatively, there is always the official NFL site.