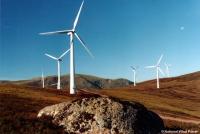 The Norwegian government has decided to join the newest global body dedicated to promoting renewable energy. The International Renewable Energy Agency (IRENA) has been created to fund and encourage green energy especially in developing countries, as well as the rest of the world.
Norway's Foreign Minister, Jonas Gahr Store commented: "The government intends to play its part in promoting the use of renewable energy, which is absolutely essential if we are to succeed in reducing greenhouse gas emissions. The establishment of IRENA is a positive signal in the run-up to the Climate Change Conference in Copenhagen later this year. Norway's ambition is that IRENA should be an effective organisation, with clear targets, for promoting the use of renewable energy."
The Norway Post reports that IRENA will focus on promoting geothermal energy, hydropower, bio energy, solar and wind energy, and ocean and wave energy. Presently IRENA, which is open to every UN member nation, is the only global body dedicated solely to promoting renewable power.
Norway's participation in IRENA was officially signed by its Ministries of Environment, Petroleum and Energy, and Foreign Affairs. The treaty was signed in Bonn on 26 January by Norway's State Secretary of the Ministry of Petroleum and Energy, Robin Martin Kaass.