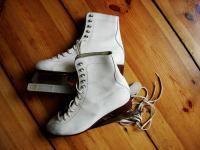 Finnish ice skater Laura Lepisto fought off favourite Carolina Kostner to become the first Finnish woman to win a women's title at the European Figure Skating Championships. The fact that she won the title in front of a home crowd made the honour even more rewarding.
Her team mate Susanna Poykio took the bronze, marking another first as Finland put two skaters on the podium at the European championships. Upon learning her score, Lepisto gushed, "This feeling can't be described. I can't even start to tell what all is going through my mind now. I could never have expected this to happen. I had said my goal is to (get a) medal, but that it would be gold, I can't believe it."
Carolina Kostner was the heavy favourite to win the overall competition, as she was not only the two-time defending champion, but her Swiss rival Sarah Meier was out of the tournament with a back injury. Kostner ended up winning the free skating event but could not muster enough points to secure her third straight title.
This is only the second time a Finnish skater has won a European title, and the first ever by a singles skater. The combo of Petri Kokko and Susanna Rahkamo took the ice dance title in 1995, but it is hoped now that the Finns have a bright skating future.