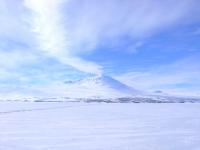 In a repeat of a slice of history that happened nearly a century ago, a team of Norwegians has beaten a rival British crew to the South Pole. The latest race was called the Amundsen Omega 3 South Pole Race, covering 481 miles from its starting point to the Geographic South Pole.
Some 97 years ago, a British expedition team led by Captain Robert Scott thought they had been the first humans to make it to the South Pole. When they arrived, they discovered a Norwegian team led by Roald Amundsen had got there 35 days earlier.
The Brits were again second-best, the Daily Mail reported, when Norway's Missing Link team completed the gruelling race in 17 days and 11 hours. Norwegians Rune Malterud and Stian Aker proudly planted their flag, while the British Team QinetiQ was still 32 miles behind.
Team QinetiQ kept a good attitude about coming in second, however, stating they were "always in high spirits and are all very excited about reaching the Pole and looking forward to a well-earned rest."
The teams set off on 4 January helped along only by tents, sleeping bags, and super high calorie foods to help maintain energy levels and keep their weight up. Britain's Captain Scott became famous for dying on the return leg of his historic journey when he and four crew members succumbed to extreme cold, exhaustion and hunger.