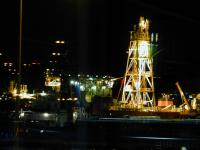 A Memorandum of Understanding (MoU) has been signed between Norway and China concerning the two countries' co-operation in the oil production sector. This MoU adds to the existing Framework Agreement on Cooperation and Dialogue on Climate Change.
The signing ceremony happened on 12 January in Beijing following a bilateral conference discussing carbon capture and storage and environmental technology. Norway and China have been working closely in the oil industry for more than 25 years, according to the Norway Post. But this latest MoU is evidence of Norway's growing prominence in the offshore petroleum production industry. It also solidifies the relationship between China and Norway in regards to the oil and gas sector.
The agreement is designed to enhance the mutual benefits each nation receives in terms of the energy security, the environment, and sustainable economic development. The two countries will co-operate more closely on their respective policies concerning petroleum activities, technology, long-term strategies, staff training and projects.
Norway's Deputy Minister for Petroleum Development, Ms Stubholt, gave a keynote speech at the accompanying seminar on energy efficiency and renewable energy in Beijing. Numerous figures in the oil industry from both countries were on hand, suggesting China will be playing a big role in Norway's oil sector in the coming years.