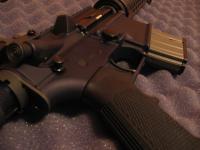 In a first for the Nordic nation, a cache of weapons and ammunition was stolen from a Danish army base in Zealand by three armed men. The incident happened at a military base near the southern town of Slagelse – the guardhouse of which was being guarded by three soldiers.
Three men armed with guns stormed the guardhouse at the military base and forced one of the guards to open the weapons storeroom. The other two guards were asleep at the time. The gunmen then made off with a significant haul of weapons and ammunition, including numerous semi-automatic pistols and automatic rifles.
According to the Copenhagen Post, many of the weapons stolen were about to be sent to Afghanistan, a fact which was confirmed by Colonel Michael Bundesgaard. The guard who witnessed the theft reported that the men spent nearly 30 minutes in the storeroom choosing what to take.
This is the first time in the history of Denmark that someone has stolen weapons from a military base. Police have not released the names of any suspects yet, but believe criminal gangs may have been responsible.
A witness reported seeing an Audi with German number plates at the time of the robbery.