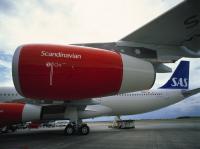 Despite its admitted financial difficulties, Scandinavian Airlines (SAS) has approached the Estonian government with an offer to buy out the 34 percent stake it owns in Estonian Airlines. SAS already owns 49 percent of Estonian Airlines.
The Swedish new agency TT reported that SAS is concerned about the financial instability of the Estonian national carrier and feels it needs an injection of new cash to help it weather this rocky period of air travel. SAS spokesman Bertil Ternert confirmed to the AFP that they sent a letter to Estonia's Prime Minister asking to buy as many shares as his government is willing to sell.
The Estonian government is busy trying to keep its nation afloat during the global economic crisis and has shown no interest in investing more cash into the airline. SAS is willing to invest the cash but only by purchasing more shares in the airline. "If this doesn't happen, SAS cannot take responsibility for Estonian Air's future," SAS chief executive Mats Jansson wrote in the letter to the Estonian government, TT reported.
SAS has its own financial worries, but feels that since it consists of a group of airlines it can survive the present crisis. The group includes budget carrier Spanair, Wideroe, airBaltic, Blue 1, as well as SAS Norway, SAS Denmark and SAS Sweden.