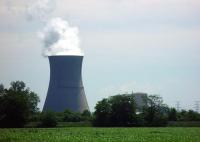 In the shadow of the building site of Finland's fifth nuclear power plant, the small town of Rauma on the island of Olkiluoto is enjoying the economic benefits that such a monumental construction project brings. This is the third nuclear reactor on the quiet island of Olkiluoto, and local residents live happily beside the reactors, for the most part.
Local Paivi Alanko-Rehelma is one such resident who only sees the benefits of nuclear power. She works in a modest café nestled between smoked fish stands and other businesses that are making a tidy profit from the workers at the construction site. Like many of the locals, she has no issues with a nuclear reactor in her backyard. "It's now safe, it saves nature, it's cheaper," she told the New York Times.
Finland's latest nuclear reactor has been plagued by delays in construction, so no one is certain exactly when the power plant will be operational. But when it does go online, it will be one of the world's newest models of nuclear reactor, a European Pressurised Reactor.
The high-tech reactor is touted as the safest and most powerful reactor ever designed, and it will both reduce Finland's dependence on Russia for energy as well as diversify the nation's sources of power. Best of all, for the time being, the project is generating a lot of income for the island – although some argue that more is not needed, given the already thriving economy. Greenpeace Finland argues that the issue of toxic nuclear waste disposal has not yet been solved to an extent that further reactors should be built, and that the nuclear industry siphons vital funding away from renewable energy projects, such as solar, wind and hydro.