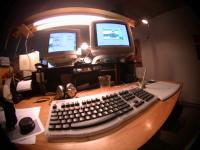 Sweden's entertainment industry has jumped into the fray concerning a proposed law that will allow law enforcement agencies access to track down and prosecute people who illegally download material that is copyrighted from the Internet. The Swedish law on the table would allow copyright holders a legal avenue to get the IP address of anyone they suspect of downloading their material.
File sharing music, movies and software over the Internet is a global issue that is both pervasive and seemingly uncontrollable. Although Swedes are overwhelmingly against the proposed law that would infringe on their privacy, a number of leading members of Sweden's entertainment industry went public in support of the measure, which is based on the European Union's Intellectual Property Rights Enforcement Directive (IPRED).
The Local newspaper reports that the political debate over this hot issue continues, with neither Justice Minister Beatrice Ask nor Enterprise Minister Maud Olofsson able to say where the government stands on the proposal. If the law passes, suspected file sharers can be directly contacted by the copyright holder and request that they stop. If they continue to download copyrighted material, the Internet users could be sued in court for copyright violations.
The original schedule put a decision for the proposal by the end of November. It would then be put into full effect on 1 April 2009. But so far the coalition parties can't agree on the law's wording.