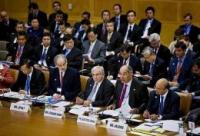 After postponing the negotiations by the IMF board three times, the fund withheld official backing for the planned $6bn loan to Iceland, Financial Times reports.
The IMF representatives visited Iceland on 24th October and agreed a $2.1bn loan. "Immediate and urgent channels are now necessary to stabilise the Icelandic krona," Paul Mathias Thomsen from IMF said. "We also need to ensure the fiscal stability." Read the full article here.
The approval of IMF is crucial as Sweden, Denmark and Norway have said they will only help Iceland financially once the IMF loan is passed by the board and and economic stabilisation plan agreed.
Iceland suspects that the UK government has put pressure on the IMF to delay the loan until a solution to compensate IceSave depositors is found.
Wouter Bos, the Dutch Minister of Finance did see a connection between the IMF plan and compensation disputes with Iceland. "The Hague would oppose the IMF plan until their compensation dispute was resolved. Luckily we have powerful allies as Britain and Germany have the same problem with Iceland,'' he said in an interview with Dutch TV.
The Icelandic Minister for Industry and acting Minister of Foreign Affair, Ossur Skarphedinsson commented: "I spoke to representatives of the UK who said that before they could assist us they would have to have clarity on other outstanding issues. I was left in no doubt what they were talking about."
IMF has not yet given any reason for the delay.
The IMF has approved a $15.7bn loan to Hungary on Friday.