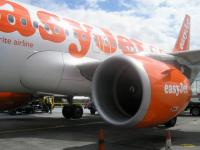 In direct competition with Scandinavian Airlines SAS, budget carrier easyJet has started flying to and from Stockholm's Arlanda Airport to both Milan and Geneva. On 27 October the first easyJet planes took off thus adding these two popular cities to its list of European low-cost destinations.
The Local Newspaper says one-way fares to these destinations are as low as EUR 23.99. This will put pressure on SAS to provide a competitive fare or face losing business to easyJet. SAS is the only other airline offering service to Milan and Geneva from Arlanda, so there's plenty of room for easyJet to undercut SAS's fares.
SAS doesn't seem too concerned about the newcomer. Speaking to the Dagens Industri newspaper, SAS spokesperson Lars Andersen conceded, "If travellers want to go to those regions, this is a direct competitor". He was quick to add, however, that SAS flies more often to Geneva and Milan, and provides better connections to other cities within Scandinavia.
Easyjet has the advantage of offering two daily direct flights to Milan, whereas out of SAS's nine flights to Milan, only one is direct. SAS has more than 20 routes to Geneva on certain days, but again, only one is direct. All of easyJet's eight weekly flights to Geneva are nonstop. This is where easyJet may end up having the advantage.