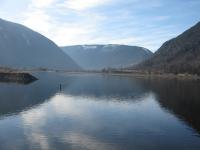 Norway's largest shipping line Hurtigruten has been struggling to stay afloat in recent weeks as the global financial crisis has been trying to sink it. The company had recently put two of its huge ships in dry dock due to the economic difficulties, but now the Norwegian government has come to its rescue with a NOK 125 million bailout in extra funding.
The main purpose of the extra funding is to allow the shipping line to continue to call on the smallest and most remote ports between Bergen and Kirkenes. Without the shipping routes provided by Hurtigruten most of these tiny communities would have no supply lifeline.
The newspaper Aftenposten reported that Transport Minister Liv Signe Navarsete reached a deal with Hurtigruten executives after they threatened to terminate most of the year-round coastal service. Navarsete said the agreement, "Will secure Hurtigruten the ability to maintain a good service for the residents and businesses along the coast."
This racks up the total Hurtigruten is paid per year by the government to run its remote location services to NOK 413 million. This will ensure that all 34 towns and villages strung out along its long coastline will continue to receive regular service until and beyond the end of 2008.