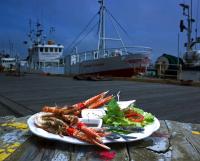 A new Icelandic cuisine restaurant in Hofn in Hornafjordur is now open. Its name, Humarhofnin, means 'The langoustine harbour' and is quite descriptive since the main emphasis on the menu is on langoustines. And, as the name also suggests, the restaurant is located by the harbour.
The old house that has now become Humarhofnin has quite a history. It used to belong to farmers and was built by the farmers themselves in 1937.
Humarhofnin offers its services to both groups and individuals. The ground floor can serve up to 60 guests, while the open and spacious rooms on the top floor offer the boardroom and the meeting room, seating approximately 8-12 persons.
All dishes offered on the menu are made using raw produce from the area and couldn't be any fresher.
Tempt your appetite and visit the restaurant's website here.
(Advertisement)