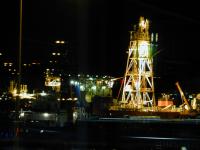 Despite the dramatic decrease in the price of a barrel of oil from its peak near USD 150 a few months ago, Norway has emphatically stated it has no plans to cut production. OPEC has been encouraging Norway to reduce its oil output in an effort to boost global oil prices, but Foreign Minister Jonas Gahr Store insists his country will pursue its own agenda.
Store was playing host to the Algerian foreign minister in Oslo when he made it clear Norway would make its own decisions regarding oil output. "Norway makes its own evaluations on an independent basis," Store said, adding that Norwegian officials certainly consult others, "But it's Norway alone that makes these kinds of decisions."
The newspaper Aftenposten reports that Chakib Khelil, the Oil Minister of Algeria, has been trying to persuade Norway, Mexico and Russia to reduce their oil production to fall in line with OPEC. But since Norway is not a member of OPEC, it has no reason to comply with OPEC's wishes.
A strong dollar means more kroner flow into Norway's coffers for each barrel sold, so the Nordic nation is not particularly concerned about the price drop. But there's no disputing the fact that this year's record oil prices have been fuelling Norway's economy, which was rolling strongly until the global financial crisis hit. If the dollar loses steam, Norway may change its tune about its oil production.