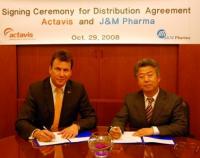 The international generic pharmaceuticals company, Actavis has entered into an exclusive distribution agreement with J&M Pharma, a Korean owned and operated pharmaceutical company, headquartered in Seoul, Korea.
The agreement is an important step in building Actavis' presence in the Korean generics market.
Actavis is one of the world's leading generic pharmaceutical companies specialising in the development, manufacture and sale of generic pharmaceuticals. Actavis has operations in 40 countries, with 11,000 employees. Actavis' products are already marketed in the Asia Pacific region, in markets including Singapore, Hong Kong, China, Australia, Indonesia, Taiwan, Malaysia and Vietnam.
The Vice President of Actavis in the Asia Pacific region, Thomas Runkel, commented on this event: "The partnership with J&M is an important milestone for our entrance into the fast growing Korean market. We look forward to working with J&M to bring our extensive generic product portfolio of first class generics onto the Korean market fast."
Tae-Hwan Kim, President of J&M, said: "We are excited to enter into an exclusive distribution agreement with Actavis for selected generic products. We will strive to position Actavis as a trusted generic brand in the Korean market and make a success story with its esteemed products."