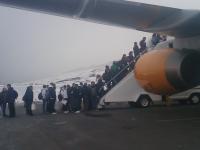 Due to severe weather conditions twoI celandair aeroplanes, flying from Dublin and London where forced to land at the airport in Akureyri, a town located in North Iceland.
The group is 45 children aged around 15 to 17 and with them are five adults.  "This was unexpected, I have tried to call our people in London but they do not know of anybody here in this town that can help" said one of the adults accompanying the group and kept on saying that an helpful Icelander had connected them with local school authorities and he expected them to get a place to stay until the Icelandair planes where able to take off from Akureyri and head to Keflavik"
One of the older kids added and laughed "this help from the locals is not what you might expect from terrorists".
According to information from Icelandair representatives the first plane, taking the passengers who flew from London, will take off at 8:00. These from London will go from Akureyri at 9:00, both are going to Keflavik.