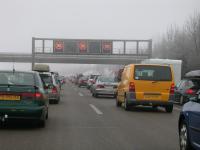 In an effort to reduce the traffic congestion problem along its eastern border with Russia, the Finnish government is considering placing a cap on the number of border-crossing permits issued to Russian trucks. The congestion is particularly dangerous during the winter months, when long queues of trucks build up along eastern Finland's icy roads.
Anu Vehvilainen, Finland's Minister of Transport, confirmed that drastic measures are needed to deal with the problem along its eastern border. "The most forcible measure is to limit the number of traffic permits issues to the Russians," Vehvilainen stated at an official meeting on transportation policy.
Russian operators have already been issued 400,000 crossing permits this year, and are requesting an additional 70,000 for the end of the year. One permit allows a single trip across the border. Finland will begin regulating the number of issued permits to stay within the capacity of its eastern border.
Russia suggested that car transporters could be processed through the Vaalimaa border crossing on Saturdays, Sundays and Mondays, but Vehvilainen does not feel this is enough. "It won't solve the problem," Vehvilainen said. "The eastern traffic has reached new heights. This year over a million cars will be transported to Russia."
Negotiations are still under way, but at the busy Hanko and Kotka harbours, the possibility of a permit cap was not well received. By limiting the number of truck crossings, it will quickly lead to serious transport problems for the Russian trucking companies.