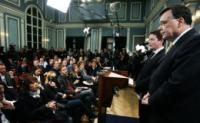 The Icelandic Prime Minister Geir H. Haarde held a press conference this afternoon reacting, amongst other issues, to the speech of Gordon Brown, his British counterpart, from yesterday afternoon.
Haarde said that he received a letter from Gordon Brown earlier today clarifying his government's approach. Haarde then called Brown's earlier public remarks unfortunate, but claimed that they are mutually working on clarifying the current situation.
Haarde also stated that Icelandic authorities will investigate whether it was legally justifiable for the UK government to overreact in the way it did, especially when Gordon Brown stated that Iceland was bankrupt. "That was not the case and strong words like that would never help," Haarde said.
Teams of UK and Dutch officials are coming to Iceland tonight and talks with their Icelandic counterparts will be held over the weekend.
Jens Stoltenberg, the Norwegian Prime Minister got in touch with Geir Haarde and staved off the speculation that branches of Icelandic banks in Norway are not willing to help to solve the situation. Stoltenberg, as Haarde stated, restated Norway's friendly offers of cooperation throughout this crisis in finding the best possible solutions to the present situation.
When asked about the commitments to IceSave, Haarde replied that Icelandic government will honour their obligations, but that they needed UK support.
"What needs to be done from the Icelandic side now is to look into the extent of using Landsbanki assets," he said and assured that the claim of the depositors is the priority. In fact a law was passed today to ensure this.
Haarde also sympathised with the former employees of Landsbanki who have been laid off. The large lay-offs were a precaution measure, and some may be kept on.
"We will do our best to keep unemployment down," he said and added that unemployment in Iceland is usually around 1 – 2%. The government intends to do its utmost to create new jobs for the people who lose their jobs due to this financial crisis.
The market will pick up as soon as the flow of foreign currency is restored.
Listen to the press conference in Icelandic followed by English here.