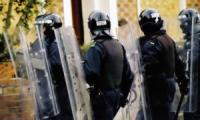 In an attempt to raise awareness about globalisation, a group of more than 10,000 protestors from around Europe converged on the Swedish town of Malmo to publicise their message. This peaceful protest was held alongside the annual European Social Forum, which is in its fifth year, Yahoo! reports.
In what was one of the biggest protest marches ever seen in Sweden, the group carried banners and walked with several marching bands from Rosengaard to Malmo. The group was made up of delegations from many different facets of Europe's social fabric, including students and trade unionists.
The purpose of the protest was summed up by Thor Rutgersson, a 25 year-old teacher who told the AFP, "We are all here because we have a common message. We want better conditions for workers, for students and more cooperation to fight poverty in Europe."
The marchers walked 7.5km, terminating in the centre of Malmo without incident. Police were standing by throughout the event after a rowdy crowd of some 100 people smashed windows in Malmo and threw rocks at police the previous night. That violent protest emerged at the end of a demonstration of around 700 people by the group Reclaim the Streets.