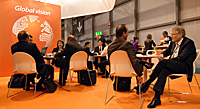 Employees from many of Actavis Group's diverse departments worldwide will be present at this year's annual CPhI conference, which is held in Frankfurt, Germany, from today until 2 October.
Medis – Actavis' third party sales division — had its own stand at the CPhI exhibition for 8 years, but shared the floor with Actavis Group last year for the first time. Actavis and Medis employees will take part in the CPhI conference, the world's leading pharmaceutical trade conference, now in its 19th year.
CPhI Worldwide 2008 presents a truly unique opportunity to exhibit in front of a global contingent of pharmaceutical professionals. Gathering in Frankfurt, this three day event will attract everyone from manufacturers and purchasers of fine chemicals and pharmaceuticals to solution providers, all in search of the latest industry developments.
CPhI Worldwide was launched in 1990 as an international convention on pharmaceutical ingredients and intermediates. The first CPhI Worldwide in 1990 attracted 250 visitors for the 16 exhibitors. This year about 24,000 industry professionals are expected, visiting about 1,500 exhibiting companies from more than 125 countries.
For more information about the conference visit www.cphi.com.