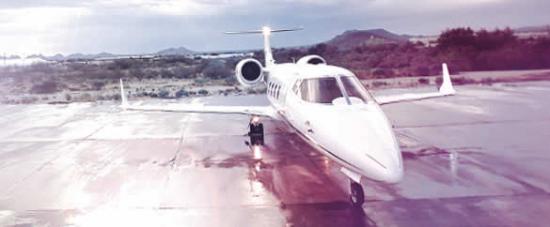 Jet Republic, a new European aviation company, aims to redefine the private jet business. Iceland is a key focus area for the new company.
Jet Republic has placed the largest European business aircraft order ever, worth USD 1.5 billion for 110 Bombardier Learjet 60 XR aircraft flying to over 1,000 airports in Europe.
To fund this new enterprise, the company has been able to secure substantial financial backing from Euram Bank, the leading Austrian private bank, and a consortium of its clients.
Customers (Members) are offered two programmes to choose from, Share Ownership or the Private Jet Card.
Jet Republic will be offering a number of features/services that other competitors don't offer. This includes the latest communications (including wireless connectivity in-flight, such as Blackberry), security systems and improved seating. It will also have in-flight attendants as standard and offer customers a 24 hour global concierge service.
Jet Republic says that the private jet market is enjoying strong growth. For example, between 1998 and 2007, there was an 83 percent increase in the number of business jet flights, with a 52.5 percent upward shift between 2003 and 2007.
The worldwide business jet fleet is set for substantial growth over the next 10 years and Europe's share of this is set to grow from 13 percent to 25 percent. The reason for this is twofold: the growth of the global high net worth individuals, which in Western Europe alone is rising between 7 and 8 percent year-on-year, and the fact that the view of business travel has changed from potential corporate excess to a business necessity.
For more information, go to the company website http://www.jetrepublic.com.
_____________
NÝJU FLUGFÉLAGI HLEYPT AF STOKKUNUM MEÐ STÆRSTU PÖNTUN EINKAÞOTA
Jet Republic, er nýtt einkaflugfélag sem í dag hefur rekstur í Evrópu með það að markmiði að endurskilgreina rekstur einkaþota. Félagið hefur lagt fram stærstu pöntun á viðskiptaeinkaþotum í sögu Evrópu, að verðmæti 1,5 milljarðar1, á 110 Bombardier Learjet 60 XR2 flugvélum og mun fljúga á fleiri en 1000 flugvelli í Evrópu.
Til fjármögnunar á þessu nýja framtaki, hefur Jet Republic náð að tryggja myndarlegan fjárstuðning frá Euram Banka, sem er í forystu Austurískra einkabanka, og hópi viðskiptamanna hans. Jet Republic náði að tryggja þessa fjármögnun vegna fyrsta flokks stjórnunarforystu sinnar, sem hefur mikla reynslu í flugrekstri, lúxus og þjónustuiðnaði og sterkri vaxtarsögu á markaði einkaflugrekstrar.
Á milli 1998 og 2007 var um 83% aukning í einkaþotuflugi í viðskiptaerindum með 52,5% vexti frá 2003 til 2007. Heimsfloti viðskiptaeinkaþota mun vaxa myndarlega á næstu 10 árum og áætlað er að Evrópuhlutinn vaxi úr 13% í 25%.
Ástæður vaxtarins eru tvennskonar – aukning í fjölda efnaðra einstaklinga, sem í Vestur-Evrópu einni saman fjölgar um 7% til 8% frá ári til árs og staðreyndin er sú að viðhorf til viðskiptaferðalaga hafa breyst frá því vera álitin möguleg ofgnótt stórfyrirtækja í að verða viðskiptanauðsyn.
Jonathan Breeze, framkvæmdastjóri Jet Republic segir: "Þrátt fyrir efnahagsástandið undafarið hefur einkaþotumarkaðurinn notið mikils vaxtar. Auk þessa teljum við að umtalsvert svigrúm sé til að bæta þjónustustigið í einkaþotugeiranum, sem þýðir að mjög raunveruleg og góð tækifæri eru fyrir okkur að ná umtalsverðum hluta þessa markaðar. Við eigum vinningstilboðið; afar hæft stjórnunarlið til koma stefnu okkar í framkvæmd og fjárhagslegan stuðning til að gera hana að veruleika."
Jet Republic stefnir að því að bjóða óviðjafnanleg gæði ferðaþjónustu í afar glæsilegum flugvélum með sérhannaðri klæðningu káetu, fullkominni flugþjónustu, öryggiskröfum og nýjustu öryggistækni. Jet Republic lofar að setja staðalinn sem allir aðrir munu bera sig saman við.
Einkaþotuklúbbur Jet Republic býður upp á tvenns konar meðlimaskráningar sem velja má á milli; Hlutaeign eða Einkaþotukortið.