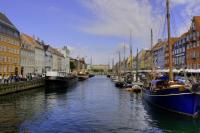 A recently released video of a senior al-Qaeda commander, Mustafa Abu al-Yazid, has threatened fresh attacks against Danish interests around the globe over its printing of offensive cartoons in 2005 featuring the Prophet Mohammed. Although Mustafa Abu al-Yazid was reportedly killed in July during an air strike in the tribal hinterlands of Pakistan, his death remains unconfirmed, according to The Australian Daily Telegraph.
The video comes on the heels of the June suicide bomb attack on the Danish embassy in Islamabad in which six people were killed. "We have warned previously – and we warn once more – the Crusader states which insult, mock and defame our Prophet and Koran in their media and occupy our lands, steal our treasure and kill our brothers that we will exact revenge at the appropriate time and place," Mustafa Abu al-Yazid said in the video, referring to the cartoons printed in 2005 in Danish newspapers.
Mustafa Abu al-Yazid claims the June attack on the embassy is, "But the beginning…if you don't end your errant ways and aggression." US intelligence agencies (SITE) monitoring videos that surface cannot confirm the date of the recording, thus lending weight to the suspicion that Yazid may indeed be dead. Either way, the group that follows Yazid still intends to do its best to hurt Danish interests around the world whenever it can.