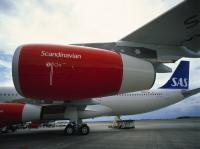 Scandinavian airline SAS's shares were temporarily suspended on Monday after Reuters reported that the airline has opened the first round of merger talks with Germany's Lufthansa, Europe's second-largest airline. There has been speculation that SAS would merge for several weeks now, and if Lufthansa can seal a deal it would solidify its already strong position in Europe's air travel market.
Lufthansa has weathered the current economic and travel slump better than many carriers, and claims to view the industry crisis as an opportunity rather than a catastrophe. SAS, however, has been on the other side of the coin, seeing its shares rise sharply this week, but still having lost over 60 percent over the past year as it has had to lay off staff and pull some of its aircraft out of service. The recent fatal Spanair plane crash, its Spanish subsidiary, has not helped.
By acquiring SAS, Lufthansa would expand its routes into some new and potentially lucrative territory. Although three governments (Norway, Denmark and Sweden) own nearly half of SAS, the current airline crisis may help ease an otherwise tricky buyout. In happier times, getting all three governments to agree on a sale would be quite difficult and time consuming. High jet fuel prices are pushing most carriers into considering mergers, with Lufthansa, British Airways and Air France-KLM seen as the three airlines most likely to emerge on top of the consolidation wave.