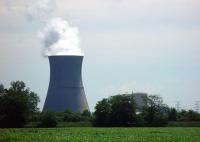 Finland's plans to build the world's first next-generation pressurised water reactor has hit a rough patch as the initial estimated price tag has now doubled to nearly 4.5 billion euro. Areva, the French nuclear construction company building the power plant, announced that the final costs for the reactor will be 50 percent higher than originally estimated, according to Les Echos, a business newspaper.
The reasons for the increase in building costs at the power plant in Olkiluoto include both rising global prices for materials and the need for Areva to bring in additional skilled workers "to ensure a quality product". This could have something to do with a recent report issued by Greenpeace condemning the safety and quality of essential welding on the plant. Confidential sources within the construction site reported that the welds were being done by unqualified welders and inspected by unqualified supervisors.
The Finnish energy group is conducting its own tests to see if there is any validity to Greenpeace's report. But the fact that Areva is bringing in additional skilled workers suggests there may be some truth to the claims. Les Echos said Areva has had to set aside more than one billion euro to absorb the added expenses. The delays in construction on the project mean the power plant won't be ready to operate until 2011, instead of 2009 as originally planned.