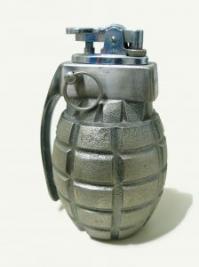 A recent spate of gang violence has flared up again in the southern Swedish town of Malmo when a grenade exploded in an apartment block. The grenade, which was thrown against the wall of an apartment building just after midnight, was powerful enough to smash a few windows and damage a section of the building's exterior but no one was hurt.
Mikael Persson of the Skane police confirmed to The Local that the explosion was connected to organised gang activity in the Malmo area. The apartment targeted by the grenade was empty at the time of the attack, which was followed by rounds of gunfire. Although no one has been arrested, a 23 year-old resident of the apartment block was taken in by police for questioning.
Over the past few weeks, there have been frequent clashes between various gangs in Skane. A bomb attack on a restaurant in Lund has been the most serious attack, in which windows were blown out but there were no injuries. The Lund attack was particularly bold and police believe it proves the escalation of the continuing turf war between two rival gangs in Malmo.
In other related incidents, a 22 year-old man was shot at several times on Tornfalksgatan just 24 hours before the grenade attack, but was not hit. A mid-summer shooting in the Persborg suburb seriously injured a 20 year-old, while another eight serious incidents of gang violence have also been reported in recent weeks.