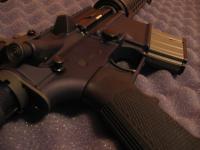 Police in Sweden have arrested six men and charged them with illegal possession of weapons, seizing an exceptionally large cache of explosives and weapons from a cellar in Spanga and an apartment in Sundbyberg. All six suspects are between the ages of 22 and 27, and well-known to the police from previous encounters.
According to newspaper The Local, the haul of weapons included automatic guns, pistols, anti-tank grenade launchers, grenades and explosives. Some of the weapons were military issue stolen from Sweden and the former Yugoslavia. Ulf Goranzon, a press spokesman for the Stockholm police, described the weapons as being "Generally very heavy."
Goranzon told the TT news agency that it was "Worrying that it is so easy to procure weapons from that part of Europe. There are plenty of weapons in those countries." Prosecutor Henrik Soderman also expressed his concern about the scope of the weapons seizure and has requested a fresh hearing to further detain the suspects.
Although Soderman could only speculate whether the weapons and explosives were intended to be sold or used in robberies, he told the TT: "Of course one is a bit jumpy. We are talking about weapons such as anti-tank grenade launchers and explosives." All of the arrested men come from the Spanga and Jarfalla suburbs in northwest Stockholm, and some of them are suspects in previous smuggling and weapon crimes cases.