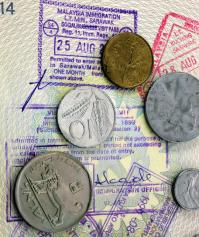 Citizens of Norway and Macedonia will now find it easier to travel between the two countries thanks to the signing of a Visa Facilitation Agreement. This step is a precursor to a visa liberalisation agreement, which it is hoped will come as soon as 2009, Makfax reports.
Norwegian Ambassador to Macedonia Carl Wibye and Macedonian Foreign Minister Antonio Milososki signed the agreement in Skopje last Monday. Milososki stated that the Norwegian embassy had no problems issuing visas to Macedonian citizens who were properly registered, and the liberalisation agreement would simplify the procedure even more.
"This is our first agreement and I hope that the next thing that we will sign with Norway will be visa liberalisation agreement, something that we are working on as a goal which is directed towards all Schengen countries," Milososki said.
This latest signing with Norway increases Macedonia's total number of European states who have a visa arrangement with the country to 25. It allows Macedonians who have family abroad, journalists, businessmen, students and holidaymakers to get a visa to Norway quicker and easier. The Visa Facilitation Agreement is valid for 24 of the 27 EU member states.