The usually tranquil town of Grindavík is now the centre of intense seismic activity, prompting the Department of Civil Protection and Emergency Management to initiate a large-scale evacuation and emergency response.
In recent days, Grindavík has experienced over 800 earthquakes, with more than 131 surpassing a magnitude of 3.0. The most significant earthquake recorded reached a magnitude of 5.2, causing noticeable tremors as far as Reykjavík and Selfoss. This unusual seismic swarm has raised concerns among experts and locals, leading to heightened safety measures.
The epicentre of this activity is at Sundhnúkagígar, a volcanic region just north of the town, known for its historical eruptions dating back to the medieval Reykjanes fires. Volcanologists compare the current seismic patterns to those observed before the Fagradalsfjall eruption in 2021, noting the potential for a similar volcanic event.
Despite the continuous seismic activity, which has caused road damage and cracks in some buildings, authorities have not yet detected signs of magma nearing the surface. However, the situation remains fluid and is being closely monitored. As a precaution, the Department of Civil Protection and Emergency Management has declared a Civil Protection Alert Phase on the Reykjanes peninsula. Under this phase, preparations are underway to safeguard residents and infrastructure, including the nearby Svartsengi power plant. A 4 km long and six to eight meters tall berm is being constructed as a defensive measure.
In response to the growing risk, emergency aid stations have been established in Grindavík sports hall and other regional locations to provide refreshments, information, and accommodation to those affected. Residents are advised to use specific routes for evacuation, as some roads, including Grindavíkurvegur, have been damaged.
The Icelandic Meteorological Office has issued an orange aviation colour code for the area, signalling an increased likelihood of an eruption. This alert underscores the seriousness of the situation and the need for constant vigilance.
Residents are encouraged to stay informed through official channels and exercise caution during this period of uncertainty. The community's resilience and the prompt response of emergency services underscore Iceland's preparedness for such natural events.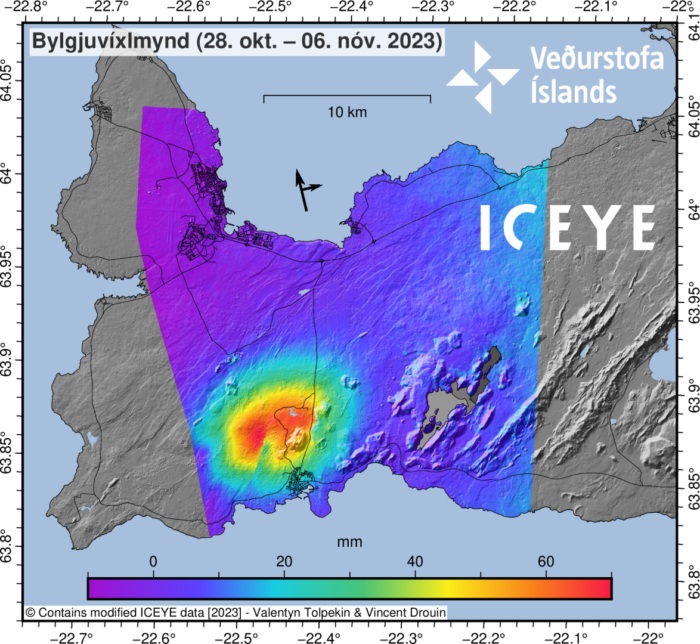 Picture from the Icelandic Meteorological Office