A wave on Iceland's south coast seized another life yesterday. Three fatal accidents and many more close calls have happened in the last then years in Reynisfjara and adjoined seashores on the south coast of Iceland.Yesterday a German woman lost her life after being swept out with the waves in Kirkjufjara, next to the precarious Reynisfjara. The woman was 47 years old, she was traveling with her husband, her son in his twenties and a 14 year old daughter. The wave also caught her family but they managed to get to safety on their own according to an announcement from the police. An hour after the accident was reported the woman was found and brought by helicopter to hospital, attempts to revive her failed and she passed away. The family was also brought to the emergency ward at the hospital and received aid.
The waves on the South cost of Iceland are ever changing and particularly precarious. The waves come in a series of smaller waves that look innocent until a sudden change in size when they become enormous and easily sweep away adults venturing too close. There are stern warnings signs on location, but to no avail, people don't comprehend the danger. The shore where the accident took place is now closed of to visitors and the adjoined Reynisfjara and Vikurfjara shores are guarded by search and rescue during the days. There has been considerable traffic there and more people were almost swept out yesterday.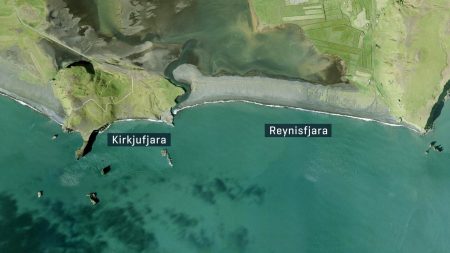 There are too many close calls on the south coast, and investigations into the latest accident are ongoing. The signs on location seem not inform guests sufficiently and Search and Rescue, Tourist board and local authorities are working on possible solution to prevent people from endangering themselves on the shores.
Featured image is taken from the local police on the south coast