According to hotel search engine travelmyth.com, Reykjavik is the most expensive European capital to visit for the Christmas holidays. The average price of a one-night stay on Christmas Eve in Europe's northernmost capital city is over 36.000 ikr or just around 300 euros.
London is right behind Iceland's capital and claims second place with an average hotel price of just below 36.000 ikr. The United Kingdom's capital city is a popular choice for Christmas among all types of travelers and demand for hotel rooms is very high. Paris gets third place with average hotel prices on Christmas Eve about 6.000 ikr less than in London. In fourth with an average hotel price of nearly 23.000 ikr we find Rome, the only capital in the top 10 located in Southern Europe.
The capitals of Austria, Switzerland and Czech Republic are also in the top 10 as are Amsterdam and Dublin, two other cities that are popular destinations for the holiday break.
Some of the big capitals like Berlin, Moscow, Warsaw and Bucharest are found at the second half of the table with significantly lower rates than the top 10 cities. Sofia, Tirana and Skopje, which are not very popular capital cities for Christmas holidays, rank at the bottom of the table with average prices between 4.500 kr and 6.000 kr per night.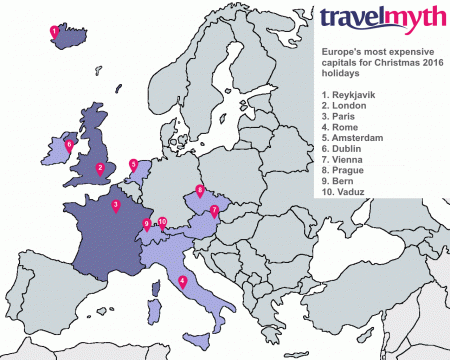 * The average nightly rate for each city is calculated from data of Travelmyth for hotel and other accommodation searches made on Dec. 14 for a one-night stay on Dec. 24 after comparing the available rates at online booking site partners.