Musicians Svavar Pétur Eysteinsson and Berglind Häsler promptly left Reykjavík in the rearview mirror in 2014 and moved to the country, they got a farm in Berufjord in East Iceland and set their aim to vegan food production.
After developing their recipe for Rutabaga chips they got to work. With help from Karolina fund, kick starter they turned the once sheep farm into a chip factory, the pastures into rutabaga fields and last year they saw their first harvest and baked the first batch of delicious Rutabaga chips. Sveitasnakk (Farm Chips) they call it. Rutabaga is the same hardy yellow turnip that Icelanders have as a side dish with their traditional food, it's as easy to grow as the common potato and can grow despite the harsh conditions in the country.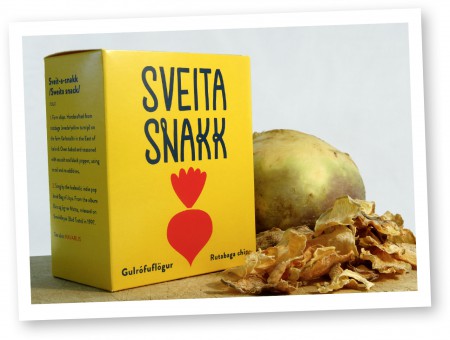 The farm is called Karlstaðir and right now it houses the only Rutabaga chip factory in the world, as far as they know. The production is small scale and the chips can so far only be bought in Frú Lauga in Reykjavík and Hús Handanna in Egilstaðir. But the couple is expanding; they are installing a new baking oven and will be able to triple their production next year.
The couple is no stranger to entrepreneurship. They have already developed and produced vegan sausages, Bulsur, also with the help of kick starter, Bulsur hit the stores in 2013. They do all this under the umbrella of Havarí. Havarí's mission according to their webpage is: Food innovation and production, to host refreshing events and offer artists space to create work and give them a platform to reveal them. Oh, and they also run a guesthouse at their farm.