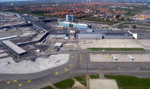 Copenhagen Airport has announced plans to expand, giving it the capacity to handle 40 million passengers a year compared to its current 24 million capacity.
Head of the airport Thomas Woldby insisted that this was no "pipe dream", and it is a concrete plan based on thorough preparation work. He said it will be 2035 before the airport can handle 40 million passengers, but revealed that construction will begin next year.
Work on the international terminal will kick off the initiative, with more gates being put in place for international flights. Woldbye acknowledged that it is not possible to increase the physical size of the airport, but said they will be able to optimise the facility. He explained that there is enough runway space to support more passengers, but the bottleneck is a problem on piers and at the terminals and gates.
Air traffic at the airport is forecast to increase significantly in the coming years. Research indicates that the number of passengers using the facility in the next 20 years will double, and Woldbye anticipates better facilities will attract more airlines and passengers to the Danish capital.
He noted that they have to move fast to ensure their current market share is maintained, and the new plan can help things move even faster.
Airport officials forecast that the extensions will cost in the region of a billion kroner a year, which Woldbye says can be covered in part by a rise in traffic and passenger numbers.